About Xcaret Magazine
Welcome to the Mexican Caribbean, a land rich in history and natural wonders. Through an eco-conscious tourist development, it offers a new way of traveling. Here the visitor has all the opportunities for entertainment, rest, sport and adventure, in an ecological context.

Xcaret Park is the best example of this new type of tourism. If its main objective is that its visitors spend one day full of diversion, enjoying its numerous attractions, its priority is also to protect the environment and to wake up our awareness in order to take better care of our planet.

Our issues focus on different aspects of the ecological work of Xcaret. Since its beginning, its activities for the protection of the environment and the preservation of the species are noteworthy. In 2000, a historic record upon freeing more than a quarter of a million little turtles during the season was marked.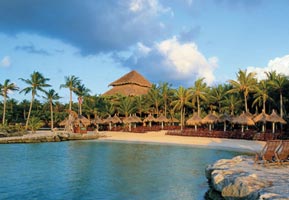 About Xcaret magazine
Xcaret Mexico
The Xcaret programs consist of the preservation of endangered species, environmental education, care to the indigenous communities of the region and support to some resources and protected areas of the Yucatan Peninsula and even the country. We speak as well of the ecological work for other two thematic parks: Xel-Ha and Garrafon. You will find on our web pages the Xcaret Magazine the most accurate information about our destinations Cancun, Isla Mujeres, Playa del Carmen, Tulum and the Riviera Maya and of course the beauty of Xcaret Park.

Directorio revista Xcaret Magazine
La revista Xcaret, propiedad de Promotora Xcaret, S.A. de C.V., de circulación semestral, tiene un tiraje de 720,000 ejemplares en inglés-español. Se distribuye gratuitamente a bordo de los vuelos, con destino directo a Cancún, Q. Roo, de las aerolíneas aliadas Aeroméxico, Aerocaribe y en Mexicana de Aviación en sus salones ejecutivos y en los carritos de lectura previos al abordaje en los vuelos con destino directo a Cancún, Q. Roo. CITEM, en México, D.F, distribuye ejemplares para los puntos de venta estratégicos en la República Mexicana. Se distribuye gratuitamente a todos los visitantes, nacionales y extranjeros que llegan a Cancún, Q. Roo, vía su aeropuerto internacional, ya sea por las terminales nacionales e internacionales, a través de edecanes. En los parques pertenecientes a Promotora Xcaret; y en forma personalizada a todo propietario o director de las empresas del país o y del extranjero que se vinculan, directa o indirectamente, con Promotora Xcaret y/o Xcaret Magazine

Grupo Global Workshop distribuye ejemplares de la revista en centrales de medios y agencias de relaciones públicas en México, D.F, y área metropolitana.
La revista Xcaret Magazine es editada, producida y comercializada por Grupo GW, Enrique Ibsen No. 40, PH. México, D.F., México, C.P. 11560. Prohibida la reproducción total o parcial de su contenido, fotografías e imágenes sin previa autorización de comunicación corporativa del grupo propietario y de sus editores.
Revista Xcaret, Certificado de Título N° 9802 y Certificado de Reserva de Derechos al Uso Exclusivo: 04-1999-111913280900-102. Los artículos firmados son responsabilidad de los autores. El contenido de los espacios comerciales es responsabilidad de los anunciantes.
Ventas
Grupo GW, Enrique Ibsen N° 40, PH. Col. Polanco, México D.F, México, C.P. 11560. Tel: (52) 52.82.32.16. Comentarios y Sugerencias: xcaretmagazine@grupogw.com

PRESIDENTE
Arq.MiguelQuintana Pali
DIRECTOR GENERAL Y EDITOR RESPONSABLE
Arq.Carlos Constandse Madrazo
CONSEJO EDITORIAL
Arq. Miguel Quintana Pali
Arq.Carlos Constandse Madrazo
Ing. Marcos Constandse Madrazo
Ing. Oscar Constandse Madrazo
Lic. Francisco Córdova Lira
Sra. Alma Flores Castrejón
Lic. Daniel Elbiorn Dzubera
Lic. Claudia Sosa Acuña
Lic. José Narváez Galaz
EDITORIAL
Director Editorial
Ricardo Villanueva
Editor
José Treviño
Coeditor
Marco Arroyo
Colaboradores
Cindy Agustín
Fotografía
Paco de la Rosa
Traducciones
Hebe Gutiérrez, John Hecht
DISEÑO
Director de Arte
Alejandro Zavala
Coordinador de Arte
Ricardo Hernández
Diseño
Isela García
Ilustración
Sergio Cámara
Bruno Prado
VENTAS
Director Comercial
Arturo Barraza Arrizabalaga
Atención a Ventas
Angélica Escalante Wong
Ventas México D.F y área metropolitana
Daniela Valladares
Farith Puente
Ventas en Cancún, Q. Roo.
Alberto Aguilar